We help you to establish eligibility for state and federal business tax incentives, advise you on the credits that are available, and obtain the maximum tax benefit to which you are entitled. There is no need for you, or your CPA, to wonder if you are paying more tax than you should – we look at all options and help you maximize your benefits.



Integrated tax credit
solutions for your business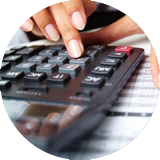 Effective process drives
outstanding results
Define optimal tax credit strategy.
First our team will learn more about your company to identify specific areas where you can leverage tax credits. Once the project is defined, we start work
Request, accumulate and analyze business, tax and employee info.
By analyzing your business and workforce, we identify all avenues for potential tax credits and gather the necessary information.
Deliver a comprehensive tax credit output.
We provide a comprehensive summary of all tax credits identified, along with supporting schedules and documents, and explain the next steps for using these credits.
Over 100 leading companies trust us
As a rapidly growing Company, we were beginning to see the dramatic tax consequences of our growth and good fortune. In lieu of our growing tax liabilities we engaged Carrazco and our expectations were dramatically exceeded. Through their Innovative Tax Strategies, Carrazco secured hundreds of thousands of dollars in tax savings for our Company. Needless to say, RB Spencer is proud to have a business relationship with a Firm that delivers on their promises."
BOB SPENCER
President - RB Spencer, Inc
Carrazco - Innovative Tax Solutions thoroughly analyzed current and future tax saving opportunities as well as prior year possibilities. By implementing Carrazco's Innovative Tax Strategies our company was able to realize over $200K in tax refunds and future offsets, increasing company cash flow and dramatically improving our bottom line.
RYAN ROGERS
Lakeview Petroleum
Although we had some understanding of the tax incentives available through the Yuba-Sutter Enterprise Zone, we had never thoroughly pursued it under the impression that our Company was too small to benefit. That changed when we met the folks at Carrazco who guided us to take full advantage of the benefits we were entitled. Carrazco's business philosophy of "No Results, No Fee" made it so we had nothing to lose and everything to gain. The process was efficiently streamlined to make things simple...the results, on the other hand, were extraordinary!
RANDY FLETCHER
Fletcher Insurance Services, Inc.
Don't let unclaimed tax credits pass you by.